Our Inclusive Community
Families of Diverse Religious and Cultural Background Belong
Families of diverse religious and cultural backgrounds belong at Emanuel! We proudly embrace all of our diverse membership and include all in our synagogue family.
Our membership includes LGBTQIA+ individuals and couples, multiracial families, people of varied education levels, and people living with physical, developmental, and mental health challenges.
Our members come from various socioeconomic levels, and no one is ever turned away because of financial need.
Children being raised in diverse families take full part in all our Early Childhood, Youth and Family programs and participate in our Religious School. All parents participate in our Family Education programs and take active roles in life-cycle events including namings, Matan Siddur Prayerbook Ceremony and B'nai Mitzvah.
We welcome the contributions of every person of good will to the strength and vitality of our Synagogue Community.
Kid-Friendly Congregation
Emanuel offers many activities and services on site and online for children and their families.
Children are welcome in our Main Sanctuary services! We offer books, toys and games for quiet play when kids accompany their parents to services. A playroom near the Sanctuary offers children additional space with toys and games.
During the Kiddush lunch following Saturday morning services, children enjoy playing and meeting new friends as their parents relax and enjoy conversation.
Weekly Shabbat Babayit gives families the opportunity to welcome the Sabbath with others from the comfort of their own homes.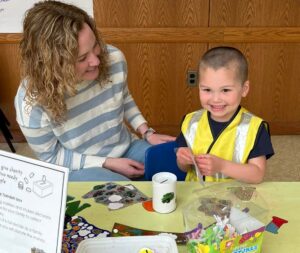 Monthly Youth and Family Services, Tot Shabbat and Bagels, Blocks and Beyond programs offer joyful experiences to meet the spiritual and developmental needs of every age.